As Unique as You: Visa launches new affluent campaign in Hong Kong featuring Cantopop superstar Eason Chan
03/26/2019
• "Unique as You" campaign reflects new goal and aspiration of Hong Kong affluents
• New platform to ride on strong momentum in domestic and international spending among Hong Kong affluents with overall spending increased by 30 percent in 2018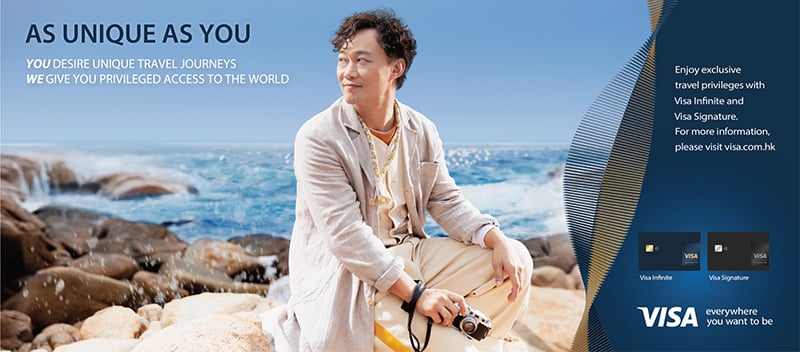 Visa launches "As Unique as You" campaign in Hong Kong in a bid to refresh its affluent proposition, tapping Hong Kong superstar Eason Chan as the new face of the campaign.
The new affluent campaign focuses on four key customer experiences in travel, dining and entertainment, retail, and eCommerce.1 Hong Kong is the first market to introduce the new Visa affluent campaign in Asia Pacific.
Maaike Steinebach, Visa General Manager, Hong Kong and Macau: "Hong Kong affluents are looking for different ways to enjoy their growing wealth. It is not just about net worth. They want to enrich their lives with meaningful experiences. Eason Chan exemplifies this by leading an extraordinary life, while staying honest to his values and belief."
Last year, Visa launched Visa Concierge mobile application in Hong Kong. Catering to Visa Signature and Visa Infinite cardholders' lifestyle demands, Visa Concierge gives users access to more than 100 frequently updated exclusive offers in 15 cities, including Hong Kong. The mobile concierge service encompasses travel reservations, booking tickets to a show, discounted access to golf clubs, and dinner reservation in, for instance, Japan, where language can be a barrier.
Visa's own research2 found that Hong Kong affluent have a penchant for premium experiences. This year's new affluent platform has been expanded to include "Audi on demand". The service provides a series of Audi vehicles on-demand through online booking with several pick-up and drop-off locations in the city – tapping into the desire for flexible, premium travel services.3
Another highlight is The Coronet at Emperor Cinema– a boutique movie-going experience with bespoke service, including welcome drinks exclusive for Visa Infinite cardholders.4
Ms. Steinebach added: "Through our research, we found that consumers equate luxury with access to exclusive benefits and experiences. We want to unlock as many differentiated benefits and experiences as possible, from brick-and-mortar establishments to online shops."
Hong Kong affluent segment is buying more from international eCommerce merchants; representing over one-third of total cross-border spending in 2018, up 2 percentage points from the previous year. 5 Overall there is a strong momentum in domestic and international spending in the affluent segment; total spending increased by 30 percent year-on-year in 2018.
Hong Kong affluent planned to more than double their spending per trip to HKD 36,100 (USD 4,602) from HKD 16,500 (USD 2,109) per trip two years ago, according to Visa Global Travel Intention Study 2018.6
Other tried and tested benefits include Visa Luxury Hotel Collection7 and airport limousine service. For more information of Visa offers visit "Pay with Visa" section on www.visa.com.hk
More about Eason Chan in "As Unique as You" campaign visit: www.visa.com.hk/asuniqueasyou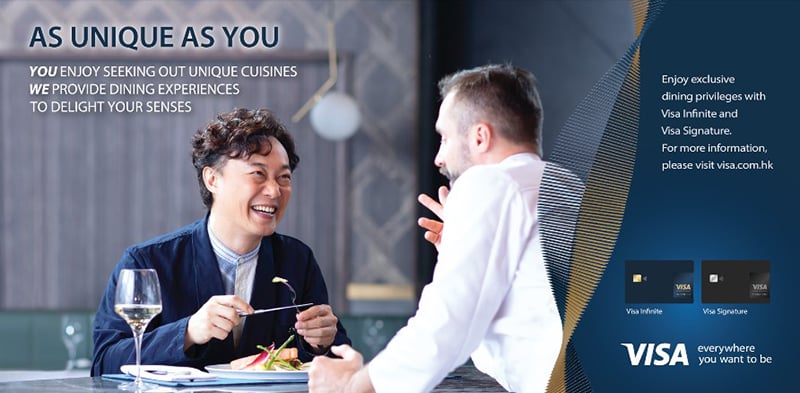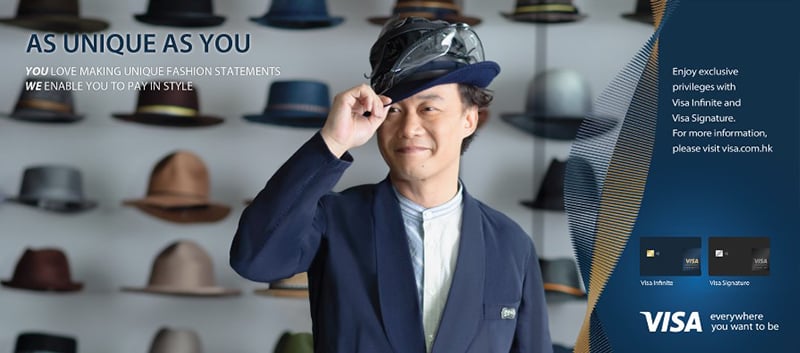 1 Visa affluent offers and benefits are applicable only to Visa Signature and Visa Infinite. Terms and conditions apply
2 Qualitative research conducted on behalf of Visa in July 2018
3 Terms and conditions apply
4 www.emperorcinemas.com/en/cinema/the_coronetDining Terms and conditions apply.
5 VisaNet: Calendar year 2018
6 The Global Travel Intentions (GTI) Study analyzes travel behavior and tourism spending patterns of global travelers. Visa's GTI Study was conducted in conjunction with research and business intelligence firm ORC International and collected data over the course of 15,500 interviews in 27 markets. Visa has been conducting this biannual study since 2008. For more information about Visa's Global Travel Intentions Study, visit Visa.com/TravelStudy.
7 https://www.visaluxuryhotels.com
About Visa Inc.
Visa Inc. (NYSE: V) is the world's leader in digital payments. Our mission is to connect the world through the most innovative, reliable and secure payment network - enabling individuals, businesses and economies to thrive. Our advanced global processing network, VisaNet, provides secure and reliable payments around the world, and is capable of handling more than 65,000 transaction messages a second. The company's relentless focus on innovation is a catalyst for the rapid growth of connected commerce on any device, and a driving force behind the dream of a cashless future for everyone, everywhere. As the world moves from analog to digital, Visa is applying our brand, products, people, network and scale to reshape the future of commerce. For more information, visit About Visa, https://visaapnews.asia/, and @VisaNews.