Visa collaborates with Olympic medalist Siobhán Haughey to raise awareness of travel payment security
09/12/2023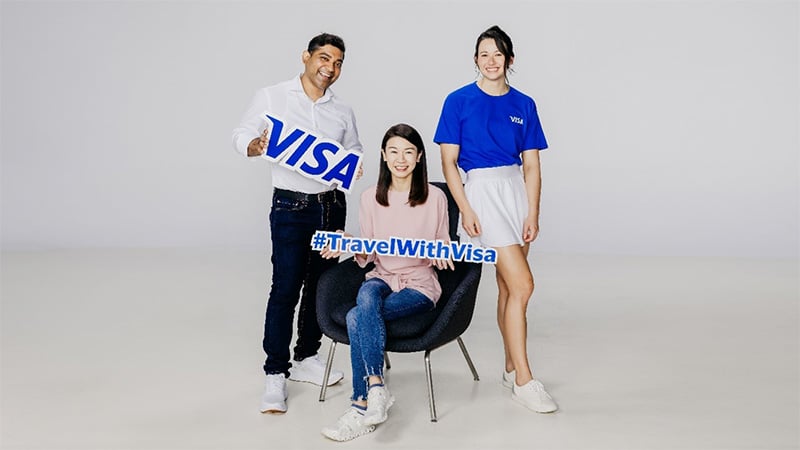 Left to right: Pavan Kumar Muttireddy, Head of Risk, Visa Hong Kong and Macau; Paulina Leong, General Manager, Visa Hong Kong and Macau; Siobhán Haughey

Visa, the world leader in payments technology, today announced a collaboration with Olympic medalist Siobhán Haughey in its latest public education campaign for travel payment security. The campaign aims to educate consumers on the importance of payment security while travelling, via a lively and engaging video series, sharing messages that resonate with all travellers.
The content series consists of six bite-sized videos where Siobhán assumes the role of a prepared traveller who imparts tips to help safeguard payments in various scenarios, such as pre-trip preparation, in-trip payment, fraud risks and more. The content is inspired by and designed with reference to Siobhán's habits and interests, as she not only motivates many Hong Kong consumers with her hard work, dedication, and devotion as an aspiring athlete, but also as a frequent traveller who understands the importance of travel payment security.
The planned release for the video series will be one at a time on a bi-weekly basis, on Visa's official Facebook, Instagram and YouTube channel. The first video, which provides tips about contactless payment, has already been published and is available here. In this video, Siobhán advises audiences to utilize contactless payment method when available and avoid physically handing over their cards, to minimise the potential risk of credit card fraud.

Paulina Leong, General Manager for Visa Hong Kong and Macau, said, "As a trusted world leader in digital payment technology, Visa's top priority is to protect the integrity of the payment ecosystem. We are delighted to feature our hometown Olympic medalist Siobhán Haughey in this public education campaign on travel payment security. As travel resumes, we recognize the need to drive awareness to help consumers protect themselves from fraudulent activities while they make payments abroad. Siobhán's dedication, perseverance, and passion have inspired countless individuals, which will help Visa reinforce its commitment to driving payment safety for everyone, everywhere."
Siobhán Haughey said, "I am honored to be a part of Visa's public education campaign and share tips on travel payment security with everyone. Since borders re-opened, I'm eager to travel again, and I know this is the same for my fellow Hongkongers! Collaborating with Visa for this video series has provided me with a unique opportunity to deepen my understanding of payment security and best practices that help ensure safer and more convenient payment experiences. I look forward to applying these tips in my next international trips, and sharing them further with my family, friends and teammates, since I've now been taught all the tips from the campaign!"
Pavan Kumar Muttireddy, Head of Risk for Visa Hong Kong and Macau, said, "Besides protecting data, devaluing data and harnessing data, empowering consumers through education is one of our key strategic pillars in safeguarding payment security. Ultimately, we believe that defending against payment fraud is a mission shared by all, and as the consumer habits evolve, we will continue to innovate with stronger and more dynamic technology to protect the payment ecosystem."
Siobhán Haughey is Hong Kong's first Olympic medalist in swimming and the first world record holding swimmer in the 200m. In April 2023, she was named "best of the best" together with Tokyo gold medalist and Team Visa athlete Cheung Ka-long at the 2022 Hong Kong Sports Stars Awards. Siobhán has recently taken silver in the 100m freestyle final at the World Aquatics Championships in Fukuoka, Japan. Upcoming, she will be competing in the 19th Asian Games in Hangzhou, China.
About Visa
Visa (NYSE: V) is a world leader in digital payments, facilitating payments transactions between consumers, merchants, financial institutions and government entities across more than 200 countries and territories. Our mission is to connect the world through the most innovative, convenient, reliable and secure payments network, enabling individuals, businesses and economies to thrive. We believe that economies that include everyone everywhere, uplift everyone everywhere and see access as foundational to the future of money movement. Learn more at Visa.com.