ZA Bank forms strategic partnership with Visa
01/23/2020
Creating synergy to offer innovative, secure and reliable service offerings
ZA Bank, the first virtual bank launching pilot trial in Hong Kong, and Visa, the global leader in digital payments, announced today a new strategic partnership to provide innovative, secure and reliable payment services to enhance the user experience of its Hong Kong customers.
As one of the first batch of virtual bank license holders in Hong Kong, ZA Bank is committed to redefining its customer journey through technology. Under this new partnership, the Bank will leverage Visa's expertise and experience in payment technology and global scale, so that its customers can enjoy fast, simple and secure cashless solutions.
At the same time, the new arrangement will enable Visa to further extend its partnership ecosystem with the addition of a Hong Kong virtual bank. It will be able to draw on its experience working with challenger banks in other parts of the world and tailor its services to meet the specific virtual banking needs of ZA Bank customers in Hong Kong.
Rockson Hsu, CEO of ZA Bank said: "We are delighted to join hands with Visa to bring greater value to user experience. As a bank that takes advantage of technology to shift the lifestyles of future banking users, we are like-minded with Visa in our aim to reshape the future of commerce. With support from Visa, we are confident that the partnership will benefit our service model and make our offerings simpler and easier."
Maaike Steinebach, Visa General Manager, Hong Kong and Macau, said: "The future of finance will be shaped by consumers' mobile-first habits and their global outlook. Together with ZA Bank, Visa wants to address these evolving needs of consumers in Hong Kong. With more than one-fifth of the city's residents looking to virtual banks to provide better user experience,1 there are opportunities for the partnership to deliver groundbreaking digital services in this exciting market."
This collaboration combines the strengths of both companies to improve customer experience through better use of technology. Empowered by a balanced mix of banking and technology talents, ZA Bank is well-placed to leverage its strength to drive product innovation. Visa offers the technological scale – accepted at more than 61 million merchant locations across more than 200 countries and territories, and capable of processing 65,000 plus transaction messages per second at a total volume of USD 11.6 trillion a year2 – and multi-layer security infrastructure.
ZA Bank received a virtual bank license from the Hong Kong Monetary Authority ("HKMA") in March 2019. It aims to create a new banking model using a "Community Driven" approach, which engages users to participate in the product development and design process in order to better serve the needs of Hong Kong customers. ZA Bank launched a pilot trial under the HKMA Fintech Supervisory Sandbox ("FSS") on 18 December 2019.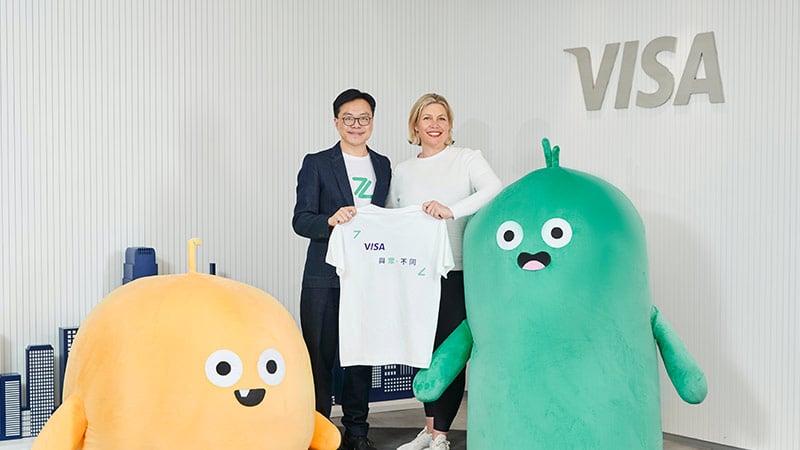 Photo caption: Rockson Hsu, CEO of ZA Bank (left) and Maaike Steinebach, Visa General Manager, Hong Kong and Macau (right), celebrating the formation of partnership with Zappy (mascot in yellow) and Alfie (mascot in green), brand ambassadors of ZA Bank.
1 Future of Commerce: Consumer Payment Attitudes Study. See: www.visa.com.hk/en_HK/partner-with-us/market-insights/consumer-payment-study.html
2 Visa Fact Sheet (https://usa.visa.com/dam/VCOM/global/about-visa/documents/visa-fact-sheet-july-2019.pdf)
About ZA Bank
ZA Bank Limited ("ZA Bank"), licensed by the Hong Kong Monetary Authority ("HKMA") on 27 March 2019, is one of the first batch of virtual banks in Hong Kong, offering a wide range of online financial services to Hong Kong users. ZA Bank was established by ZhongAn Technologies International Group Limited ("ZA International"). With "Community-Driven" approach, ZA Bank encourages users to directly contribute to its product development and design process together, guiding the bank to design and develop innovative products and services that will better serve the needs of Hong Kong customers.
ZA International was established in Hong Kong in December 2017, by ZhongAn Online P&C Insurance Co., Ltd. (HKEX stock code: 6060), an online-only insurtech company in China, to explore international business development, collaboration and investment opportunities in the area of fintech and Insurtech in overseas market.
About Visa
Visa Inc. (NYSE: V) is the world's leader in digital payments. Our mission is to connect the world through the most innovative, reliable and secure payment network—enabling individuals, businesses and economies to thrive. Our advanced global processing network, VisaNet, provides secure and reliable payments around the world, and is capable of handling more than 65,000 transaction messages a second. The company's relentless focus on innovation is a catalyst for the rapid growth of connected commerce on any device, and a driving force behind the dream of a cashless future for everyone, everywhere. As the world moves from analog to digital, Visa is applying our brand, products, people, network and scale to reshape the future of commerce. For more information, visit www.Visa.com.hk, www.VisaAPNews.asia and @VisaNews.